Contact Operation Greyhound
Contact Us:
Please email us at:
operationgreyhound@cox.net
or write to:
Operation Greyhound
273 Chicory Lane
El Cajon, Ca 92021
Phn: (619) 588-6611
Fax: (619) 593-1337
Donate to Operation Greyhound:
Directions and Map:
From North Coastal and LA:
I-5 South to I-805 South to I-8 East 15 miles Greenfield exit in El
Cajon.
Turn right (south) on Greenfield Drive for 1/4 mile to La Cresta Road.
Turn left on La Cresta Road for 3 miles to Mountain View Road.
Turn left on Mountain Road for 1 mile to Horsemill Road.
Turn left on Horsemill Road for 1/4 mile to Chicory Lane.
Turn left on Chicory Lane to 273 Chicory Lane.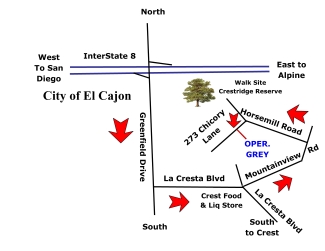 Outside Southern California?
Check out the Greyhound Project site to locate organizations outside Southern California. http://www.adopt-a-greyhound.org/directory/list.cfm
If you have had any difficulties with our site, or have suggestions for future content please email the webmaster